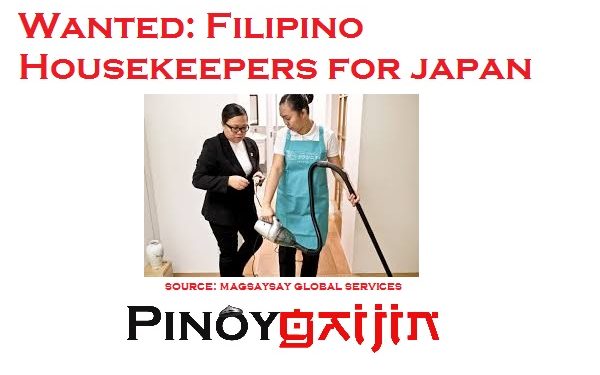 Have you heard the news lately? The first batch of Filipino Housekeepers will be deployed in Kanagawa and Osaka, Japan this month of February 2017. Source
The lucky first batch to be hired under a new government policy that encourages Japanese professional woman to re-enter the workforce after bearing a child.
These 50 new Filipino Housekeepers were trained by Magsaysay Global Services which partnered by Pasona, a Japanese agency.
Filipinos who had been selected to this program were given FREE TRAINING in Japanese language, culture, hospitality, and housework for two months. They will also undergo on-the-job and orientation training in Japan before they are deployed.
Want to take this opportunity? Good news is, Japan is still looking for Filipino Housekeepers. Not as a maid but categorized as Professional Housekeepers with a salary of more than P 70,000.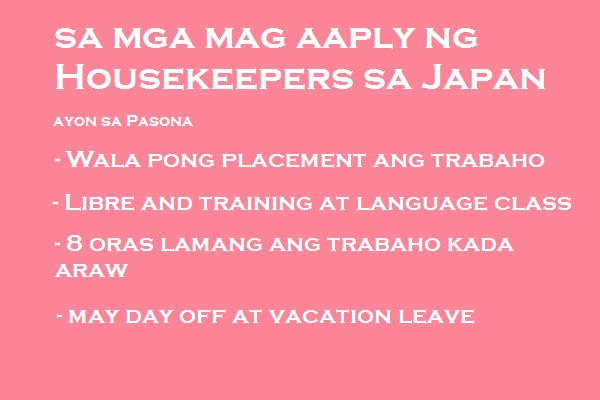 Pasona is now hiring for the second batch and 1,000 Housekeepers needed for the next three years. If interested to apply as Housekeeper in Japan, Please check this website www.magsaysaycareers.com
Please be reminded: There is no placement fee for the job and training. Nihongo Classes are free.
Know first if you are qualified.
Qualifications
Female
At least 1 year of experience as Household worker/ Domestic Helper
Should be 28-45 years old Only
Preferably with NC II from TESDA ( Household Services or Domestic Work)
Here's how to apply
Register in www.magsaysaycareers.com
Walk-in at the office in business attire and bring an updated resume
For more details, please send your questions or inquiry to mgsi_recruitment@magsaysay.com.ph
REMINDER: NO PLACEMENT FEES and NO PROCESSING FEES